Remember. Inspire. Encourage.
Ralph V. Tavares, Sr.
Scholarship for Education
It was very clear that Ralph V. Tavares, Sr. dedicated his life to service making an impact on our community and our hearts. Help us continue his legacy in establishing a scholarship for education in his name at the Boys & Girls Clubs of Providence.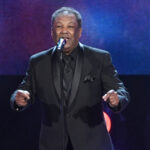 Ralph served our country in the military, gave the gift of music in The Grammy-award winning soul group The Tavares Brothers who released smash hits "It Only Takes a Minute." and "Heaven Must be Missing an Angel" and "More Than a Woman" , and was a devoted Christian to others.
Ralph never forgot his roots at the Fox Point Boys & Girls Club where he shared stories of his time swimming, playing sports with his friends, and most importantly feeling safe and refuge from the dangers happening in the neighborhood. This scholarship will help give kids a safe place to grow and learn with the tools to observe, discover, and explore for their exciting future ahead.
We thank you for continuing his legacy in making a gift to his scholarship fund and being all in taking care of our community for a better tomorrow.